Children's Programs • Children's Worship & Sunday School
Arts & Crafts • Music • dance • Games • Theater • Godly Play • & Surprises!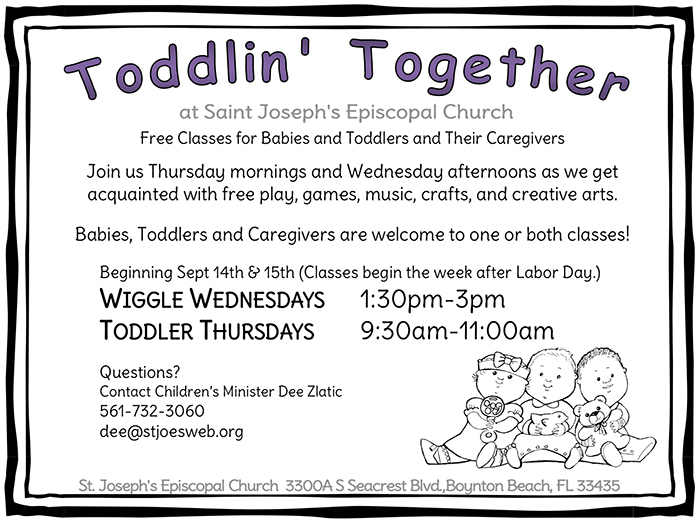 ALL AGES WORSHIP EVERY 4TH SUNDAY@ 9:30AM

All attend church with their families. Children's Choir sings. No Sunday School this Sunday. Childcare is offered in the Nursery for young ones whose parents feel may not be ready to attend a full church service.
SUNDAY SCHOOL SCHEDULE
The Nursery is open for childcare every Sunday 8:30am-12:30pm

9:15 am Sunday School Classrooms open.

9:30 am Worship~ Sunday School & Nursery

10:45 am Coffee Hour
J2A for 6th - 11th grades
11:45 am Unplugged ~ childcare in Nursery
CURRICULUM
Sunday School lesson plans are developed mainly from Weaving God's Promises Curriculum. In addition to Weaving God's Promises, Godly Play is Every Third Sunday of the Month. Visit http://www.weavinggodspromises.org

In addition, Christian games, crafts and activities are used to reinforce bible stories.


Bulletins, Books & Seat Markers

Find Children's Books, Bulletins & "seat markers" in the church entrance. Parents are asked to pick up a green "seat marker" to place next to them in the pew. This will reserve enough space for a child who enters church following Sunday School.
CHILDREN'S CHOIR J.A.M.! – Joy and Music
2nd – 5th Grades
Children's Choirs Begin October 9

The 2nd-5th Graders Choir practices every 2nd & 3rd Sunday of the month at the end of 9:30am Worship After rehearsal in the music room, singers will be escorted to the parish hall to their families at appr.11:20am.
2nd-5th Graders meet Wednesdays 4-5pm in the Choir room for a fuller music experience. 2nd-5th grade Choir sings on 4th Sundays at 9:30am All Ages Worship with a rehearsal at 9 am. Choir Director David Clyle Morse

OPTIONAL Wednesdays 4-5pm in the Choir room for a fuller JAM! experience (Starts Oct. 5)
ACOLYTES
3rd through 5th Graders may volunteer to acolyte at the 9:30am worship service. Acolytes serve on a rotating basis with training at 9 am on the Sunday that they are scheduled to acolyte. Student acolytes will miss 9:30am Sunday School on
the Sundays that they acolyte

Acolyte Leader: Sherry Thomas For more info click HERE
HOLY BAPTISM
Baptisms take place during weekend liturgies and are scheduled for parish members through the parish office. A parent may need to take Episcopal101 prior to the baptism. All 2017 Baptisms are honored at 9:30am All Ages Worship January 22, 2017
HOLY COMMONION MILESTONE; FIRST COMMUNION

Classes are designed for 1st and 2nd Graders plus any other students interested in learning about Holy Communion. A parent or other special adult attends classes with their student. Registration form and Baptism requirement. Communion Classes begin Feb. 5, 2017 after 9:30am worship and runs every Sunday until Holy Communion Milestone Celebration Eucharist on March 12, 2017 at 9:30am worship.
Download our latest Communtion Milestone 2016 Flyer HERE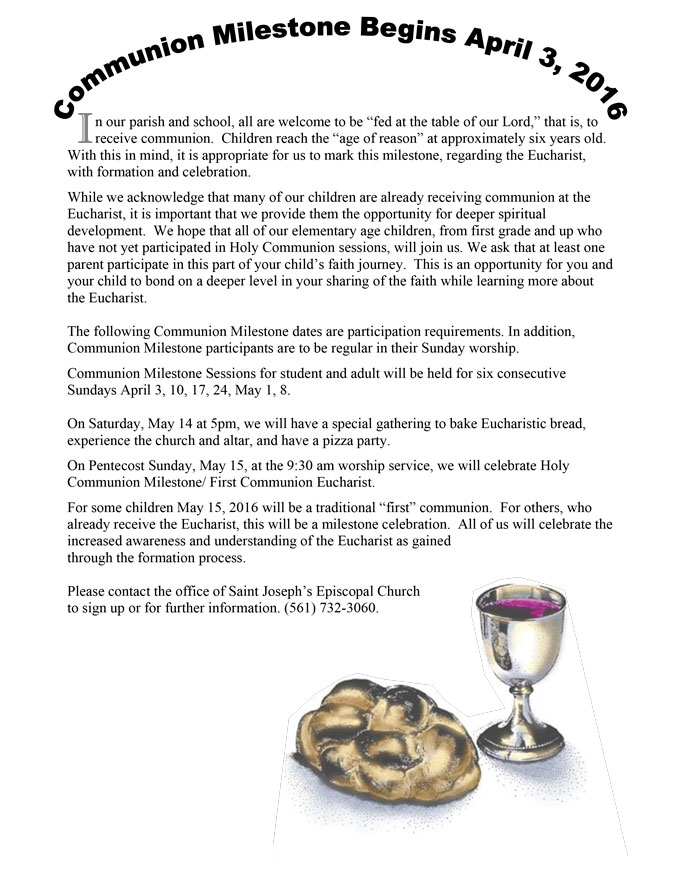 SUNDAY SCHOOL CALENDAR, 2016-2017